Customized Private or Group Tours
Art Tours, Country Side Tours, Angkor Wat, Beach or Golf.
---
Details:
Sample Cambodia Tour Itinerary
Tour Conditions and Agreements
Pricing
Packing List
Contact Us
Your Guides
Cambodia Tour Highlights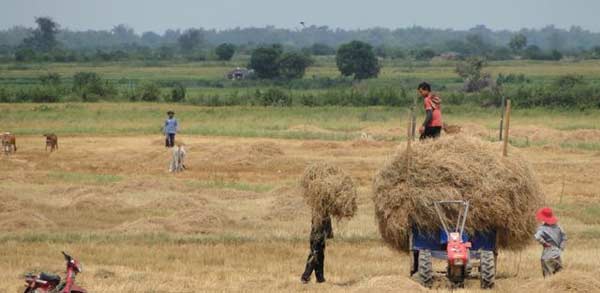 Cambodian Countryside and People
Most tourists don't have the chance or the fun of traveling away from the major tourist attractions to experience what we call real Cambodia . By that we mean how the majority of Cambodians live and work and conduct their daily lives. We will meet with local people and eat in local restaurants chosen for safety. Your guides, Michael and Lisa Bade, lived in Prey Veng province for 4 years and offer local contacts, knowledge and language skills that give you access to a Cambodia that most travelers never experience.

Angkor Wat Complex
UNESCO World Heritage Center Angkor is one of the most important archaeological sites in South-East Asia. Angkor Archaeological Park contains the magnificent remains of the different capitals of the Khmer Empire, from the 9th to the 15th century. They include the famous Temple of Angkor Wat and, at Angkor Thom, the Bayon Temple with its countless sculptural decorations.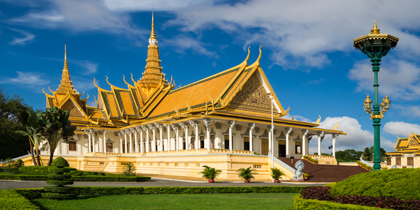 Phnom Penh City
Phnom Penh is the vibrant bustling capital of Cambodia. Situated at the confluence of three rivers, the mighty Mekong, the Bassac and the great Tonle Sap, what was once considered the 'Gem' of Indochina. Besides the Royal Palace, the Silver Pagoda, the National Museum, the Toul Sleng Genocide Museum, the Choeng Ek Killing Fields and Wat Phnom, there are several market places selling carvings, paintings, silk, clothing, and fabrics at very competitive prices.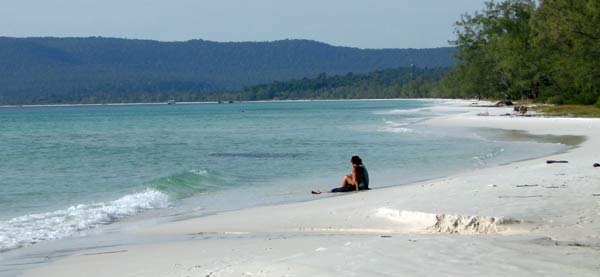 Beach add-on
We are happy to add on a few nights at the beach, visits to Vietnam,Laos and Thailand for those who have more time. Please contact us about some of the options.
Now taking Reservations for Fall and Winter 2020-21
---
2020-2021 Tours
Winter 2020-2021
Customized 13 to 20 day tours.
You put together a very small, friendly group (min 6 max 14 people) or join a small group we put together. We customize a trip for you and not only take out the pitfalls but delight you with opportunities you cannot have on your own.



Your Guides
Your guides Lisa and Michael Bade lived and worked in Cambodia for 4 years, speak the local language and will be joined by local experts. Our goal is to make the fascinating history, art and culture of Cambodia and it's people come alive for our group. We will do everything we can to ensure you have a safe, fun and rewarding trip.
Click for more information on who we are.

Our unique tours include a visit to Angkor Wat, the must see UNESCO World Heritage site, and travel in the villages and countryside of Cambodia away from tourist attractions. The provincial areas outside the major tourist destinations are where most Cambodians live and work and conduct their daily lives. We will meet with local people and eat in local restaurants chosen for safety. Michael and Lisa Bade lived in rural Cambodia for 4 years and speak Khmer. Our tours are customized to fit each group we take. We visit the must see sights everyone sees and other wonderful places and people you might never find on your own.
Typical cost is $2750 + Air based on the 13 day tour, double occupancy. Single occupancy add only $30 per night.

For more information about any aspect of our tours email us here: or click on: badetours@gmail.com
We encourage you to ask questions or give us suggestions.

Click for air-fare information and pricing Details




Weather
Its all good news November through February with excellent weather expected throughout the country.

February is considered relatively cool and dry, averaging around 85F across the country.
It's a great time to explore in the daytime and enjoy an occasional evening swim.
July August is considered relatively warm, averaging around 90F across the country, with usually a cooling hour of rain in the morning or afternoon. Morning and evening temperatures are very pleasant.
It's a great time to explore because there are less tourists at the temples. We enjoy going out in the morning taking a rest after lunch then going out again in the afternoon. Of course an occasional swim is a wonderful way to keep cool and all our hotels have air-conditioning.

Future Tours
We offer consultation on tripsto Cambodia.


If you would like to inquire about travel to Cambodia, send an email to us at: badetours@gmail.com so we can answer your questions or keep you informed of future tours planned.

&nbsp