Details:
Cambodia Tour Itinerary
Tour Conditions and Agreements
Pricing
Packing List
Contact Us
Cambodia Tour Home
About Your Guides
Michael, a video producer and Lisa, a teaching artist, lived in the Cambodian countryside town of Prey Veng from 2010 to 2014.
Working for a humanitarian organization, their work took them all around Cambodia including many places tourists don't go.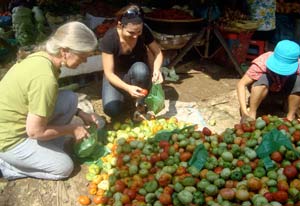 Their work included setting up partnerships with and supporting local Cambodian community organizations who were involved in education, livelihoods, peace and food security development.


With a love for and appreciation of Khmer culture, Michael and Lisa are excited to help others explore Cambodia in a unique way.
They speak Khmer, the local language, know the ins and outs of getting around safely and have ties to Cambodian friends, colleagues and communities. This deep experience in Cambodia uniquely qualifies them to make your safety and security paramont while facilitating unique experiences for you, their guests.
We look forward to talking to you and hope you will join us on this one of a kind tour of the Cambodia we have come to know and love

Email Us at:
badetours@gmail.com


Phone Us At:
Michael Bade 206-446-3016
Lisa Bade 206-330-7812

Write Us At:
Michael or Lisa Bade Cambodia Tour
3310 NW 80th Street
Seattle, WA 98117


Ï